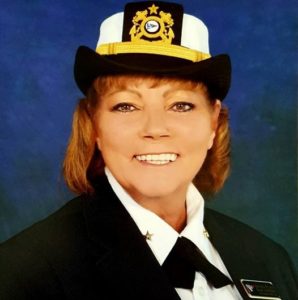 My husband Ben, myself, and our two dachshunds, Chloe and Sadie, live aboard our boat here at the Port Orchard Yacht Club. We have a 45' CHB Grand Mariner, the Lucky Lady, that we try to get out of the boathouse as often as we can. Ben and I are both retired and living together on a very small boat, so I enjoy getting off the boat and doing things in the club as often as I can! (Love ya honey) We have 4 grown children and (gasp) 15 grandkids! Maybe that's why we live on a boat!
I'm an Idaho farm girl and had no intentions of EVER leaving home, then I married a Navy guy… and you can take a Navy guy away from the water…. but he will just whine incessantly! So, when we retired we sold everything we owned, moved to the Sound and bought a boat. Smart… Right? That was in 2012 and we haven't looked back since.
I have been the Clubhouse Chairman for the past year and will continue to fill this position. Ben and I have also been privileged to host several of our club cruises the past couple of years, Penguin, St. Patrick's and the Memorial cruise, and we will continue to attend as many of the cruises as we can. We love the beautiful area we live in and enjoy getting out and exploring the amazing Pacific Northwest Coast.